Discover more from MicroAngel
Exclusive insights + stories exploring how Indie Hackers buy & sell Micro-SaaS businesses for profit and freedom
Over 3,000 subscribers
MicroAngel State of the Fund: August 2021
Postcode Shipping onboarding, Reconcilely roadmapping, revenue milestones & reached $1m+ valuation. Closing MRR: $23.2k/$15k
August has been an interesting and eventful month at MicroAngel!
Earmarked by several milestones and events, I've consolidated and reduced the number of variables that I deal with and maintained the focus towards fixes and improvements.
The month started off with a bang as I welcome Eric Eidelberg to the MicroAngel team. 🎉
Look out for an introduction post from him soon. He's a bit less comfortable with the idea of building in public, but we hope to change that slowly and surely over time! :)
He's joining the team with a pedigree as a lean startup CTO, has awesome experience in the field, and is already getting his hands dirty reverse-engineering and documenting everything related to the Reconcilely product.
I look forward to sharing his perspective on the newsletter!
We took the time to dive into the product's darkest corners I'd mostly been avoiding for the past few months and have made great strides understanding the technical complexity implied by items I've been meaning to work on.
This culminated in the creation of a new, updated Reconcilely roadmap that takes into account the velocity acceleration resulting from onboarding Eric to the team, which I'm so excited about!
On August 15, I closed the transaction for Postcode Shipping and we have been in asset transfer and training kick-offs ever since.
I'm absolutely blessed by the contributions of the seller and his team, who have gone above and beyond so far with respect to documentation, hand-off, and strategic advisory for what they believe would be good tactics to employ moving forward.
It is my belief that the seller and I will continue to build a long, healthy relationship far into the future, if the last few weeks are anything to go by.
The Postcode Shipping acquisition also represents an important strategic milestone considering the added ARR of the product pushed the MicroAngel Fund I valuation beyond $1m considering a 4x exit multiple.
In that light, we've recently updated the goal of Fund I to a $2m+ exit target around February 2023, with cash-on-cash returns maintained at 70% over a two year period. I will effectively be reinvesting all leftoever cashflow into headcount.
As of now, the plan is to consider one to two additional partners in Growth and Product respectively, so that I can move slightly out of the grind and more towards expanding the fund and perpetuating the journey through future acquisitions.
In personal news… my wife gave birth on September 3rd, sending us into mini hibernation as we take care of the newborn, hire/train a nanny and get used to the new rules of life.
Current fund lifecycle stage
✅ Buying (02/2021 - 05/2021) 
→ Fixing (06/2021 - 08/2021)
Improving (09/2021 - 12/2021)
Growing (01/2022 - 08/2022)
Roll up (09/2022)
Exit (10/2022 - 12/2022)
Things are going very, very well from a performance standpoint.
There had been a few implications in closing Postcode Shipping late, focusing on partner scouting, hiring and completing asset transfers.
The most obvious is that the expected timeline I initially set for Fund I was a little too aggressive since I expected to close up Fixes at the end of August. That's OK, all things considered.
It's important to recognize that the timeline was set up pretty arbitrarily, so the fact it requires extension should be a lesson for any microangel looking to implement the Fund I strategy:
The buying phase is the riskiest part of the fund lifetime, and it follows Hofstadter's Law, a redundant concept which states that things always take longer than you expect, even when you take into account Hofstadter's Law itself.
While I'm still fixing a few things left and right, I healthy-scratched many things over the past few months that I'm excited to put back on the docket now that it's more than just me.
In that regard, our current laundry list is to:
Finish up low hanging fruits for Reconcilely

Complete the initial training period for Postcode Shipping

Initialize low hanging fruits for Postcode Shipping

Roadmap the next 6 months for Postcode Shipping

Focus the next 3+ months on implementing planned improvements
The number one priority is to lock in any work currently outstanding in Reconcilely while the rest of the asset transfer is completed over at Postcode Shipping and to use that time smartly inbetween.
On the acquisitions side, I'm pretty much done injecting cash into deals for the next little while. The model and its ensuing performance metrics have been proven there.
Now, I want to know how much leverage I can produce out of the existing setup, and whether I can expand the potential return ceiling of the first fund on the basis of the funds I've already invested by creatively acquiring using debt.
I've invested about $75k more than I had initially set out to, but that's simply a factor of the amazing opportunities I've managed to make good on between Reconcilely and Postcode Shipping so far. These were fantastic deals and I'm happy to have fielded a little more cash considering the returns will grow in consequence.
From that perspective, the new fund goals are:
Extract $360k in total cash-on-cash returns by February 2023

Secure a $2m+ exit for the two products currently in the portfolio by February 2023
It's entirely possible the goals will be updated once again if/when I close a 3rd transaction, especially if that is done without any additional personal cash injections. We'd look for a larger roll-up exit, the return of which would still be based on the $573k number.
From a creative financing standpoint, the goal is to produce a notice to reader that communicates the portfolio's activity over the past 12-24 months, and to illustrate the health of the cashflow and its ability to service debt, which at this point would be used to finance a 3rd acquisition without anything else out of pocket.
Currently, I'm exploring a cashflow-based loan of up to $1m, which would be serviced over a period of 7 years, with a first-year moratorium on principal payments, which is an amazing advantage considering the growth rate of the portfolio's ARR will take care of much of the principal.
Think about it:
If I take out a 7-year long loan of $1m with an interest rate of about 6.5%, I'd be looking at year 1 payments of about $152k, or $12.6k per month.
Assuming the 3rd product I acquire produces net profits above $12.6k per month, I'd effectively be acquiring the product for free as its free cashflows would service the new debt.
The kicker? Great lenders often extend 6-12 month moratoriums on loan payments, which means that I could defer the first payments for at least a year after the loan has been secured.
As the portfolio's MRR grows in the first year following the loan, the newly added MRR will represent a discount on the loan itself.
In effect, acquiring the 3rd product isn't an exercise meant to increase cash-on-cash returns as much as it is meant to act as an additional asset into the rollover, the liquidation of which would amplify the total return of Fund I come time to exit.
If this works, it will prove the ideal 1-2 combination that I'll be excited to repeat and scale over subsequent funds. It's time to see just how far we can take this thing on the basis of intelligent moves on the chess board alone.
Fund Activity
Funds Deployed: $573.5k

Products: Reconcile.ly, Postcode Shipping

Closing MRR: $23.18k (154% to goal)

MRR Growth: +330%

30-day Revenue: $23.37k

Rolling cash-on-cash return: $54.37k (+9.6%

/ +0.1x)

30-day ARR growth: +$213.44k (+330%)

Cumulative valuation increase: +$539k (+94%)

Current Total ARR: $278,148

Fund valuation @ 4x: $1,112,592 (+94% / +1.94x)

8-Month Return (MOIC): +104% / 2.04x
Headlines
Welcoming Eric Eidelberg

Closed Postcode Shipping on August 15th

Kicked off Postcode Shipping hand-off

Nearing completion of Reconcilely reverse engineering + compiling documentation for future acquirer(s)

Compiled, groomed and finalized Reconcilely 6mo roadmap

Reconcilely revenue up 33% to $7.2k MRR

Postcode Shipping revenue up 27% to $16.1k MRR

Shopify ads experiment for both products

Onboarded support team for both products
Portfolio Activity
Win a Business via MicroAngel
Gonna do this. Will be reserved for paying MicroAngel subscribers which is nearing the 100 mark (97). Ideally this should be someone with a future as a microangel but without the funds to kickoff the first acquisition.
Part of my vision for this whole thing long-term is to scale it by decentralizing it.
I would like to test whether that decentralization model would work, and I can do that by sponsoring the acquisition of a future microangels and setting up a master lease agreement whereby a CEO would own the cashflow, and MicroAngel would retain most of the equity.
Look out for more on this as I get back to work from my pseudo-paternity leave.
Reconcilely
What else can be said about this beast? It shows up every day and has been producing value for Shopify merchants at an accelerating rate over the past few months.
Without counting the latest changes in Shopify commission, Reconcilely would have reached $5.75k MRR, up $350 from the previous month. Instead, we've passed both the $6k and $7k MRR mark within the span of 30 days.
Closed the month at $7.2k MRR, up 47% since acquiring Reconcilely back in February 2021. Things are going about as well as I hoped they would over here.
As mentioned, an emphasis on product management resulted in the delivery of Reconcilely's roadmap for the next few months, and within it, the key to unlocking future growth for the product beyond its current run rate.
We chose what to work on by following a simple yet powerful roadmapping process:
Scoured, reviewed and compiled all customer feedback out of emails and Intercom dating as far back as 6 months

Added all items I'd created over the last few months

Drafted all potential tasks into a list and ranked each task against its ability to produce new user acquisition, increase user activation, power customer conversion and drive user retention.

By the end of the grooming session, we had 70+ items across a variety of projects/epics, each representing a key milestone for the product that would effectively unlock new segments to market to

Compiled all the tasks into triage and organized into defined projects, with the most important dependencies at the start.

We t-shirt sized as much up-front as we could, and defined the need for specifications for anything else that was too blurry for us to assign time estimates to. That gave us a generalized idea of what we expect to deliver over the next few quarters, in line with the fund's lifecycle stage on any given month.
Part of Eric's initial tasks inbetween getting introduced to the code base was to document as much of the experience (from a fresh perspective) as possible, and to lay the foundation for a Notion-based documentation package that could get just about any buyer up-to-speed about the product in the future.
This kind of stuff mostly fits into rolling-up activities, but it was worth doing since you only get a first impression once, and that perspective is valuable for a limited time as you determine what your first moves will be.
Besides, as you figure stuff out, it makes sense to document that so other teammates don't have to ruminate through the same inputs to get to outputs that can be shared.
I've noticed a small increase in customer support, which is fine because I've started onboarding a dedicated customer support team to Reconcilely, powered by the great folks over at The Support Heroes.
It isn't clear yet if I'll keep working with them on the basis that the invested capital could likely be better spent towards an in-house resource that would live and breathe only two products (vs. multiple clients).
I do like the flexibility offered by a pay-as-you-go support team, which is useful come time to lean out the costs in preparation for a roll-up, where profitability starts to become the main topic of conversation relative any ARR captured by the portfolio.
Lastly, I kicked off Adwords for the first time this month and looks like I was able to drive clicks to install for about $0.75 a pop, which, assuming an abysmal conversion rate from click to install of 5%, would still produce a CPI in the $15 range, which I'm quite excited about. Looking forward to seeing what Facebook and other social spend can do when compared.
All in all, things are going swimmingly for Reconcilely, and the trend will accelerate as we continue delivering product features and expansions that radically increase the potential of the product.
Postcode Shipping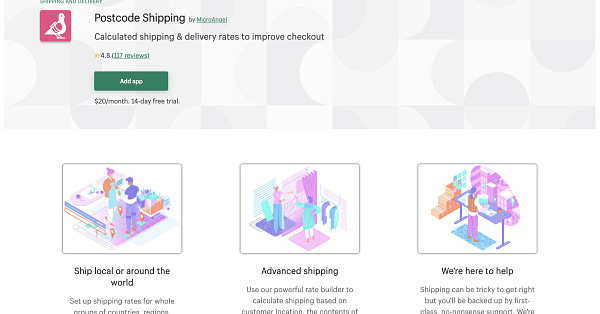 microangel.so
MicroAngel acquires Postcode Shipping, a profitable SaaS producing $200k ARR
An exclusive look into a six-digit micro-acquisition
The closing process went very smoothly, and I once again used Escrow to govern the transaction.
Considering the nature of time zone differences, we've opted for a no-stress async hand-off process, which started with the invitation of the seller and a teammate into the MicroAngel Slack.
We then created a Notion space to have a dedicated place to store knowledge transfer over time. As the training period is 6 months long, there will be plenty of opportunity for ad hoc additions to the internal knowledgebase.
This stuff is absolutely critical.
It helped me accelerate into the project as a buyer who was concerned about losing any insights about the product, process or market that would take a long time to develop on my own vs. being able to reliably pull those into a repeatable format I could easily consume or share with teammates.
Speaking of internal documentation, the team at Postcode Shipping did a something pretty unique that I hadn't seen standardized before.
Because the support team is outsourced, it's important to give them a standard of procedure for any given support query that might come in so as to reduce how long and/or verbose support replies can be.
Standardized response for each use case makes for a well educated team that is empowered to provide delightful support as required and on time, a staple of the reputation Postcode Shipping has earned for itself.
It's a bit early to ink in new changes to the product, but it is clear most of it will be in the area of user experience and streamlining.
Templating functionality will make it possible to reduce the work implied in getting shipping zones setup, and by that extension draw victories in the areas of customer activation and retention.
Things like this take time to truly understand, beyond the fact the product itself has a lot of depth and can become complex by nature granted use cases that rely on sophisticated logic to drive shipping rates for their stores.
Something I'm pretty excited to be exploring is past business development opportunities that had been previously passed on.
One such opportunity was revived and following a few calls with the potential customer, I've identified a new revenue line for the product that could accelerate the run rate by as much as 100% with maybe 10% more work for the existing team.
These opportunities, I've noticed, are only possible because the product technology is truly best of breed, which is a quality that lends itself well to business development because the folks you speak to have an inherent want for the thing you can provide.
I didn't get a full month of ops in for the product so I'm keeping my hands mostly out of the basket. It's important to let myself absorb the initial wave of information, and make adjustments as necessary to move along.
The overall goal for the Postcode Shipping project is to position it for rapid market/channel experimentation and to create a repeatable and scalable process to acquire more customers and expand the run rate.
In that spirit, I kicked off some App Store experiments to rank the app a little higher for keywords likely to produce good results.
Learnings and adjustments
No big adjustments this month, it's been a weird one with quite a bit of activity — all positive — and culminating in something amazing with the birth of my second daughter.
I'm truly blessed by the way things have been going so far, and the onus is on the MicroAngel team to execute the plan I've laid for ourselves to accelerate the run rate and revenue trends moving into roll-up territory.
There's talk of bringing on some additional reinforcements and to split the pie a little more if things continue to grow.
Assuming a third acquisition, we could probably bring on a third partner who would be able to glean similar cash-on-cash returns while making a big impact on how quickly we improve product or increase user acquisition, whichever is most required in time.
I'm staying the course for now as things are going in the right direction.
Most of my days are spent working on product or setting up new acquisition systems, which is a great place to be.
Revenue is growing at a very healthy pace (~$800 MRR per month) and that should accelerate as we reach product and growth milestones and discoveries.
I'm expecting to spend a little bit less time inside of engineering now that Eric's on the team, which means I'll spend more time speaking to customers or attempting to create traction on either of the channels most likely to produce good unit economics.
But before that, I'm going to enjoy my newborn while the team holds the fort. Answering support tickets is no longer a huge hassle thanks to the support hand-off, which means I can take the time I need without negatively affecting either revenue, support or customer experience.
In the hopes life is as good for you rn, talk soon!
1
We're doing this because, to be honest, the incredible level of quality delivered by the Postcode Shipping team (as it relates the documentation) has made us jealous that Reconcilely was further behind in that department.

The amount of value we've already extracted out of that documentation made it clear how critical the role of documentation is relative to acquisitions and asset transfers. Without them, we'd have had a much, much harder time getting acquainted with the code and/or standards of procedure that have been instrumental in driving the incredible reputation the product enjoys today.
2
Cash on cash return dropped from 21% last month to 9.5% this month simply because the amount invested has increased. Thus, my total return is now being calculated on my total invested funds.

Even in this scope, posting 10% cash on cash after 8 months is fabulous. And the numbers will just keep getting better the longer we hold.